Roof Replacement Services in Dallas Forth Worth
Get a new roof and get peace of mind. Start with a free, no-obligation inspection, then get honest, affordable pricing and timely roof installation service that last a lifetime.
Or Know more about this service
Top-rated roof replacement contractors in Dallas Fort Worth
Replacing a roof can be nerve-wracking. Hiring an expert contractor for roofing replacement who walks you through the process and pays attention to detail makes the experience more relaxing. Even better if they have a solid history in your city. That way, not only do they understand durable roof installation but also give you the best price and durability.
At Roofing Solutions of Texas, our process follows 6 careful steps:
Decking: When we remove the old roof, we will inspect the decking to ensure it's in good shape and will repair or replace any areas where it's needed so that your home is solid in all weather.
Valley Flashing: We use 36-inch wide ice & water shield underlayment, which is better and offers more protection than the previous metal flashing that other roofers will use in the valleys where two-roof sections join, you get extra protection for your new roof.
Flashing: By working with high-quality metal flashing designed to last for a lifetime, we ensure that your roof remains waterproof.
Accessories and Vents: Whether it is a wind turbine or a customized vent, we won't skimp on the accessories that complete your roof. Products with lifetime guarantees mean you won't need to replace them again.
Shingles and Tiles: At first glance, it can be hard to tell the difference between first-rate shingles and tiles and sub-par products. We only use the best products in the market.
Underlayment: Since no one sees the underlayment when the roof replacement is finished, some companies skimp on the quality or even reuse the old materials. We stick with new, high-quality materials that will protect your home.
Customers we've worked with are delighted with their new roof that they ask us to use them as a reference. So, choose top-rated, expert-vetted roof replacement contractors in Dallas Fort Worth, who provide an amazing service.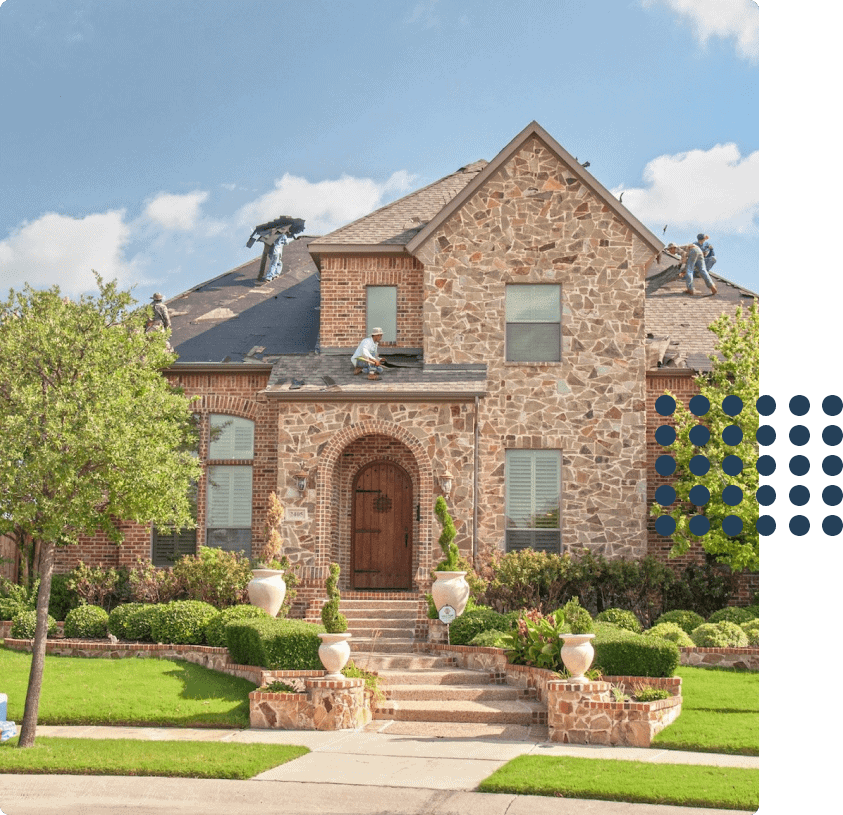 Inspections are free.
Get peace of mind on your roof.
Contact Us
We'll schedule a time to meet and discuss your unique needs for roofing repair.
Planning
We'll inspect and confirm what needs to be done and complete the insurance requirements if needed.
Work
Your roof work is done successfully, and we stick around to ensure you're satisfied.

We now offer easy installments for your deductible.
Frequently Asked Questions
How do I know if I need a new roof?
You can't know for sure without a professional's inspection, but a major sign to look out for is hail and other elements have damaged your roof beyond a point where it makes sense financially to repair it. We will go over every option available to you and allow you to make the best decision for your property.
Do you offer small roof repair jobs?
Yes. Most roofers will not do small jobs, but no matter the size, we are here to serve you. Small jobs or a full roof replacement, we are here to help. 
How long does a roof replacement take?
While each project can vary they can be affected by complexity, accessibility, and weather. However, most roofs are replaced in 1 to 2 days. We focus on efficiency, we even deliver materials the day we start working. We care about your property and do not want to inconvenience you longer than needed.
Do you offer emergency repair services?
Yes. We are available for emergency roofing services 24/7 in the Dallas Fort Worth area. We are here to make sure your roof is safe and secure and will be with you each step of the way.